Cutting-edge Swiss biopolymer and plastic recycling technologies
Human creature comforts – your clothes, your computer, your car – depend heavily on plastics and their many advantages. But our planet is being overwhelmed with the resulting waste problem. Advancing biopolymers and plastic recycling technologies can help to resolve this dilemma. Sulzer, the leading provider of polylactic acid (PLA) solutions, is expanding its R&D capabilities in Switzerland. The company is investing in testing facilities to support the scale-up and commercialization of pioneering biopolymer processes and plastic recycling technologies.
More
Today, the world produces more than 380 million tons of plastics every year. It is a valuable and versatile material with ever-growing application areas, but the rapidly increasing production of disposable plastic products is stretching our ability to deal with the waste.
A lot of plastics end up back in our natural environment, accumulating on our shorelines, in our oceans or in landfills and persisting for decades. Today, plastic pollution has become one of the most pressing environmental issues.
Establishing a new dedicated R&D facility for biopolymers
The detrimental impacts throughout the life cycle of fossil fuel-based plastics – land and water pollution, carbon emissions and toxins released upon incineration – underline the need for alternative biopolymers made from renewable resources.
Sulzer is a leader in this field. We are putting our money where our mouth is by expanding our R&D center located in Oberwinterthur, Switzerland. The company's biopolymer technology portfolio brings highly sustainable and alternative solutions to the market – with significant social, economic and environmental benefits.
"Making our way towards a circular economy"
Torsten Wintergerste, Division President Chemtech, outlines the stumbling blocks on the journey towards a world with more sustainable plastic solutions – and how Sulzer innovation helps find a way out of the plastic crisis.
Read more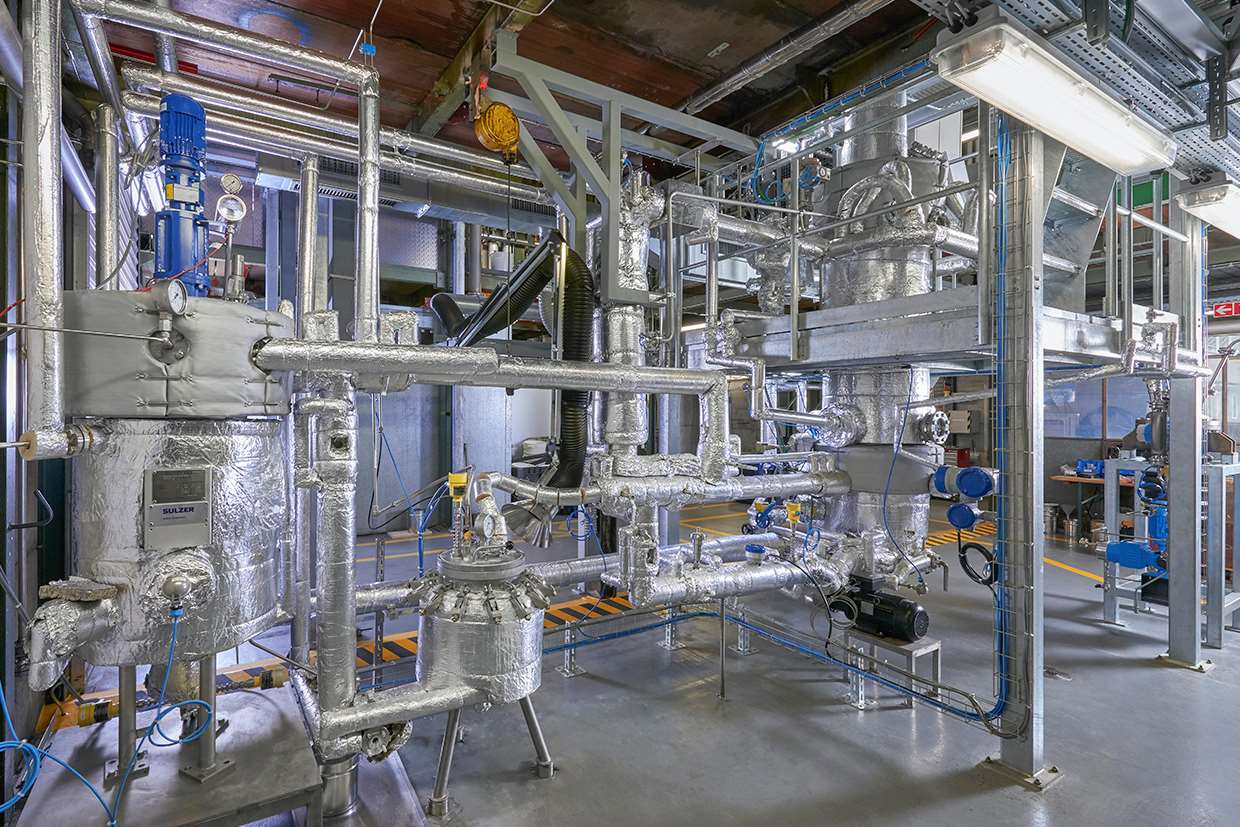 Our R&D facility in Winterthur for the production of biopolymers.
Why don't we see more bioplastics and plastic recycling technologies in use today? What are the obstacles?
The engineering of plastic materials has been constantly evolving since the Second World War, to replace wood, glass or metal products with inexpensive plastic equivalents. These engineered plastics are not easy to recycle, nor can they be easily replaced with bio-based alternatives with similar physical properties – produced at reasonable costs. While promising technologies exist at laboratory or pilot scale, it takes time and effort to scale up and improve these processes for the mass market. Furthermore, it requires all players within the value chain to optimize and streamline their processes. Public policies favoring the use of bio- or recycled materials can accelerate this trend. Nowadays, there is fortunately a global consciousness of this issue that is enabling a fast-pace transition to the desired circularity for plastics.
What is so special about Sulzer's technology to produce biopolymers?
Biopolymers are produced from natural feedstocks and are thus degradable. These feedstocks are transformed by biochemical or chemical processes into biomonomers – the building blocks of biopolymers. As biomonomers consist of natural resources, they contain various impurities that must be removed prior to the polymerization process. Our technology consists of highly efficient process steps to produce and purify the biomonomers for conversion into biopolymers. This exclusive production platform is suitable for a wide range of very promising biopolymers (such as PEF, PLA and potential copolymers) that can be used for packaging, agricultural, transport and medical purposes.
The keyword of our newly designed plants is flexibility. Our facilities can create pure biopolymers of controlled length, structure and properties. Furthermore, our technology can process various raw materials – while maintaining Swiss quality and accuracy!
Please tell us more about Sulzer's R&D program for plastics.
Our R&D program is based on three pillars: functionality at reduced weight thanks to our foaming technology, closed-loop recycling of plastics, and sustainable production of biopolymers. Behind our program is a team of fully committed process specialists, driven by the ambition to provide a solution to today's environmental challenges. We all strongly believe that our efforts to develop advanced process solutions for polymeric foams, biopolymers and for the recycling of conventional polymers is the right path forward.
Scaling-up the production of bioplastics
Biopolymers like polylactic acid (PLA) and polyethylene 2,5-furandicarboxylate (PEF) provide a sustainable alternative to conventional plastic materials. In contrast to PET, these materials are based on renewable feedstocks such as sugars, starches or agricultural waste.
As a leading one-stop provider for PLA processes, Sulzer has already supplied large commercial-scale PLA plants to customers. Our teams have also produced lab-scale batches of novel polymers with unique barrier and tensile properties, such as PEF and PLA copolymers, with new and exciting physical properties that greatly expand the field of potential application of biopolymers (beer bottles! complex packaging!). Industrial partnerships emphasize the potential of this technology, and production will be scaled up with the new pilot plant in the first half of 2021.
Increasing the recycling rate of plastics to 50%
Despite rising efforts in the field of biopolymers, most plastics are currently non-biodegradable and non-recyclable, ending up in landfills and incineration plants.
To tackle this issue, a growing number of companies around the globe are developing chemical recycling technologies. It is expected that these processes can increase the recycling rate of all plastics from today's levels of around 15% to 50% by 2030.
Building a pilot plant for plastic recycling technologies
In 2019, Sulzer demonstrated the uniqueness of its fractionation technology, used as an essential purification step in plastic-to-liquid (PtL) recycling processes of industry innovators like Danish company Quantafuel. Quantafuel developed a solution to recycle plastic packaging waste into usable fuels. We will now take the next step to further develop and expand the fields of application of this technology, with a dedicated new pilot plant in Allschwil, Switzerland.
The plant is designed to upgrade the outputs from various plastic recycling processes by separating and/or purifying them. These purified outputs will be used as fuels or monomers, enabling circularity for plastic waste. We are already testing the process on our existing units as we prepare to begin operations at the new plant in the second half of 2021.
Cosmetic packaging made from recycled plastics and biomaterials
Historically, the beauty industry relied heavily on virgin oil-based plastics for packaging. Now, however, the industry is increasingly moving towards sustainable solutions. Geka offers cosmetic packaging that is made of recycled plastics and develops solutions using bioplastics from non-edible sources.
Read more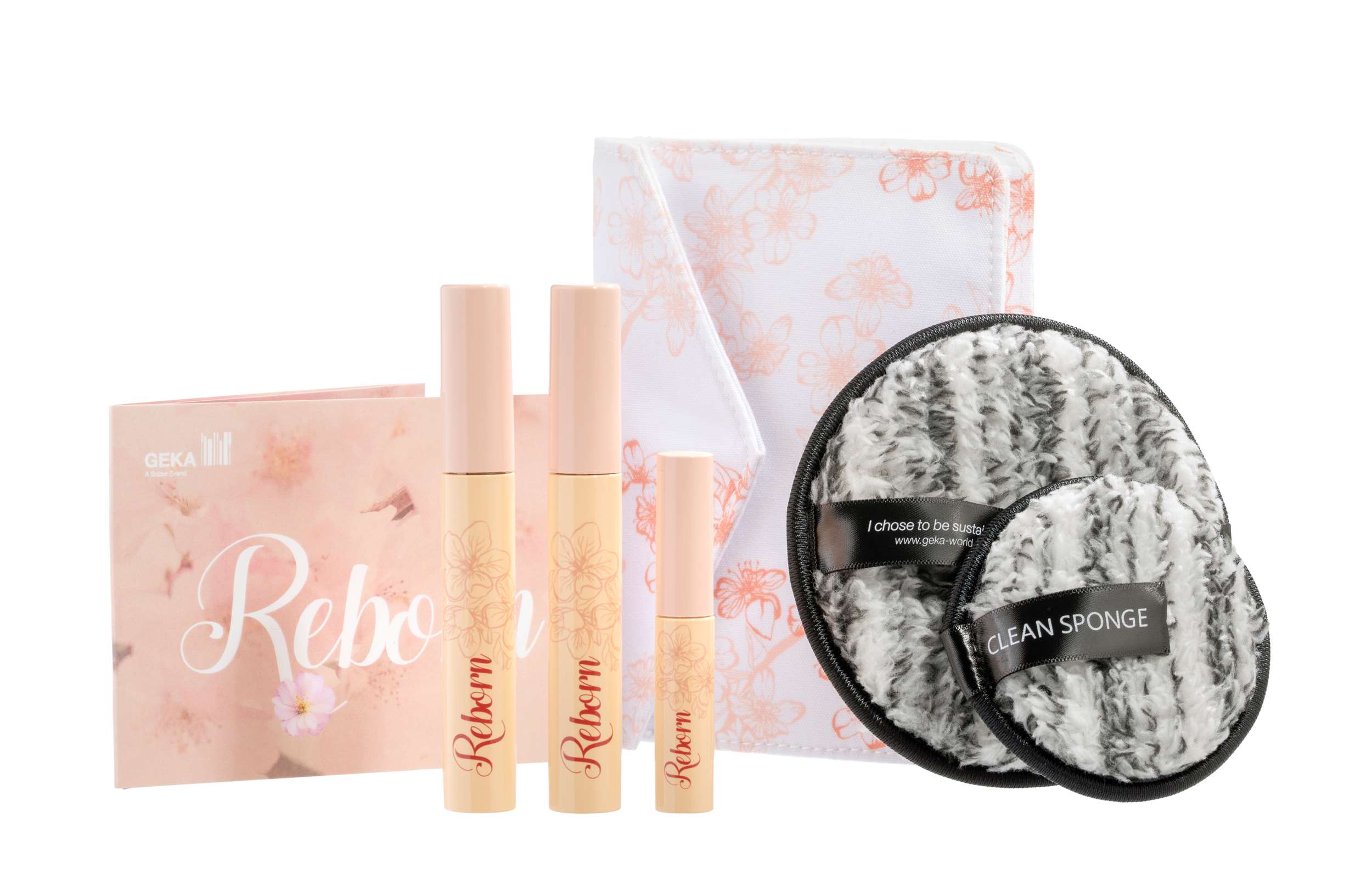 Sulzer's Applicator Systems (APS) division focuses on offering beauty packaging made from recycled plastics, so-called PCR (post-consumer resin) materials, and bioplastics from non-edible sources.
In 2020, Geka launched its "Reborn" green packaging collection for eye and lip makeup, made exclusively from sustainable components. The mascara bottles are based on 100% PCR PET (polyethylene terephthalate), the caps on 100% PCR PP (polypropylene), and the fibers for brushes are derived from non-edible castor oil. Despite limited global production capacity for PCR and high demand, Geka's goal is to fully integrate PCR into its components in the near future.
Like recycled plastics, biomaterials offer great potential for the future, with an average 30–50% lower carbon footprint than their fossil equivalents. However, they are considered more of a medium-term solution since they require changes to product designs and tools. Being part of the Sulzer group is a great advantage for APS, since its sister division Chemtech is a leading technology provider for bio-based plastics. Using this know-how and network, Geka will continue its efforts to make beauty packaging more sustainable in 2021 and beyond.
Advancing the sustainable production of plastics
Our partnerships with various universities, such as our Swiss neighbors ETH Zurich, along with start-up companies, customers and other stakeholders in the value chain allow us to decrease time to market for these new solutions.
Reducing carbon footprints and negative environmental impacts is what drives Sulzer's innovation program. We help turn ideas into commercially viable reality, to foster a circular economy.
More stories about our products and services at www.sulzer.com/stories.