Leading technology for bio-based PLA plastics
Conventional plastics are usually not degradable. Polylactic acid (PLA) is a sustainable alternative: It can be used to produce plastics that are biodegradable. Sulzer delivers process know-how and key equipment for the production of PLA.
More
Common plastics take a very long time to degrade or are not degradable at all. This means that microorganisms are not able to break the material down into organic matter that living organisms can utilize. For example, a plastic bottle needs a stunning 450 years to degrade. Bottles made of PET will never biodegrade.

The sustainable alternative to oil-based plastic
Sustainable alternatives for these conventional plastics already exist. One is polylactic acid (PLA) that can be used to produce plastics that are bio-based, biodegradable and 100% recyclable to their original form.
With our technology, one of the world's top two PLA manufacturers built a large plant to produce 75'000 tons of PLA plastics per year. This is how we help customers deliver high-quality bioplastic solutions for a greener future.

Torsten Wintergerste,

Division President Chemtech
The base material for PLA production is glucose or sugars from crops like corn, wheat, sugar cane and sugar beet – also called first-generation raw materials.
PLA is the most promising biopolymer based on renewable feedstock and has started to replace conventional polymers produced from fossil fuels. Its global capacity is expected to grow from 0.3 million metric tons per annum (MTA) today to one million MTA over the next five years.
From bottles to medical devices to 3D printing
Sulzer has played an active role in optimizing the PLA process for industrial use over the last 25 years. The resulting bioplastic has mechanical and thermal properties that are comparable or superior to its traditional oil-based counterparts.
PLA bioplastic serves as the base material for packaging (e.g. bottles, bags), textiles, components for the automotive industry, electronic devices, medical devices and implants, and 3D printing processes.
Fast lead times thanks to additive manufacturing

Sulzer uses a range of materials for its column packings, such as metal, polymers and composites. We are developing and deploying additive manufacturing (AM) technologies that are adapted both to the specific and to the variety of materials that we use.
We are producing small-scale static mixers by additive manufacturing, namely selective laser melting. By melting metal powder onto a platform, the product is built up layer by layer. Today, AM technologies are mainly used for prototyping, and to produce support parts, small batch size parts or tools. AM helps us achieve fast lead times, particularly for lower-volume production.
One-stop provider for PLA processes
Sulzer delivers single, key equipment solutions for PLA manufacturing. The company also designs and installs equipment and integrated modular solutions for the individual steps of the polymerization process.
At the customer's location, installation supervisors and start-up engineers from Sulzer provide support in the assembly, installation, commissioning and start-up of the equipment.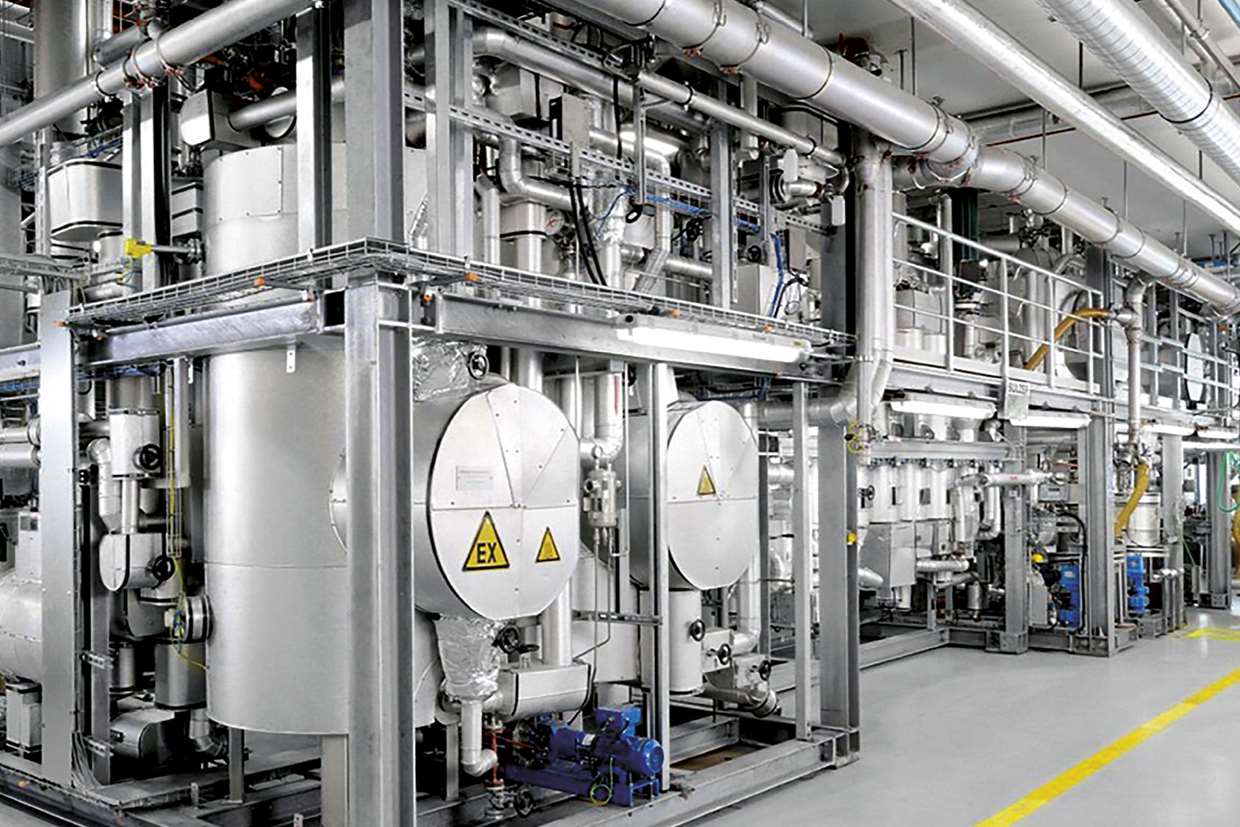 Building a PLAnet™ for sustainable bioplastics
At year-end 2018, Futerro, Sulzer and TechnipFMC teamed up to simplify the manufacture of bioplastics. The three major process technology and equipment specialists formed the PLAnet™ initiative.
The strategic collaboration will support investors from both ends of the sugar-to-PLA value chain in entering the bioplastic market. PLAnet is a "one-stop shop" for customers and is able to provide a single point of contact and responsibility.
Degrading at different speeds
One of the main benefits of the Sulzer technology is that the properties of the polymer can be adapted easily using the same equipment. There is no need for different process lines. This flexibility is important because the adjustable settings influence how fast or slow PLA-based products will biodegrade. For example, disposable applications such as food packaging with a short shelf life should be easily biodegradable, whereas electronic components need to be more durable.
The most important factor for a good polymerization is that the process temperature is maintained at a controlled, constant level and that the feed material is thoroughly mixed. Sulzer offers special mixer reactors, the SMR, that combine these two functions: mixing and cooling.
New generation of raw material
While feedstock-based materials work well for PLA production, they require agricultural land that is also needed for food production. This is why researchers try to find a new generation of raw material. One option is a material that stems from non-food sources such as agricultural residues (second-generation raw material). In its fully equipped laboratory in Switzerland, Sulzer runs tests and trials for customers. The results are then scaled up to industrial level for use in large plants.
More stories about our products and services at www.sulzer.com/stories.