Stable power supply for Indonesia
Power plant operators need reliable plants that always deliver full power and never stand still. If a turbine is damaged, it needs to be repaired quickly. What normally takes up to a year, Sulzer Indonesia's service center can do with a mobile workshop on-site in just three months.

More
Countries of the Association of Southeast Asian Nations will account for almost two-thirds of global energy demand growth between now and 2040, according to the International Energy Agency. To keep up with the increasing demand, power plant operators depend on reliable plants.

Corrosive steam wearing out the equipment

Steam turbines, converting heat into mechanical torque which in turn drives a generator, process variable and corrosive steam that degrades equipment over time. Under these conditions, damage can occur fast.

Frequently the blades need to be heavily repaired or replaced. In some cases, the rotor sees damage to seals and other diameters; in more severe cases, the rotor shaft can even separate in two.
Losing valuable time and money
When a rotor shaft is damaged, it usually needs to be shipped to a service center for welding.
Steam turbines are large machines. They cost a lot of time and money to transport and customers lose valuable production time in the process. As if matters were not complicated enough, some power plants are located in areas that are difficult to access.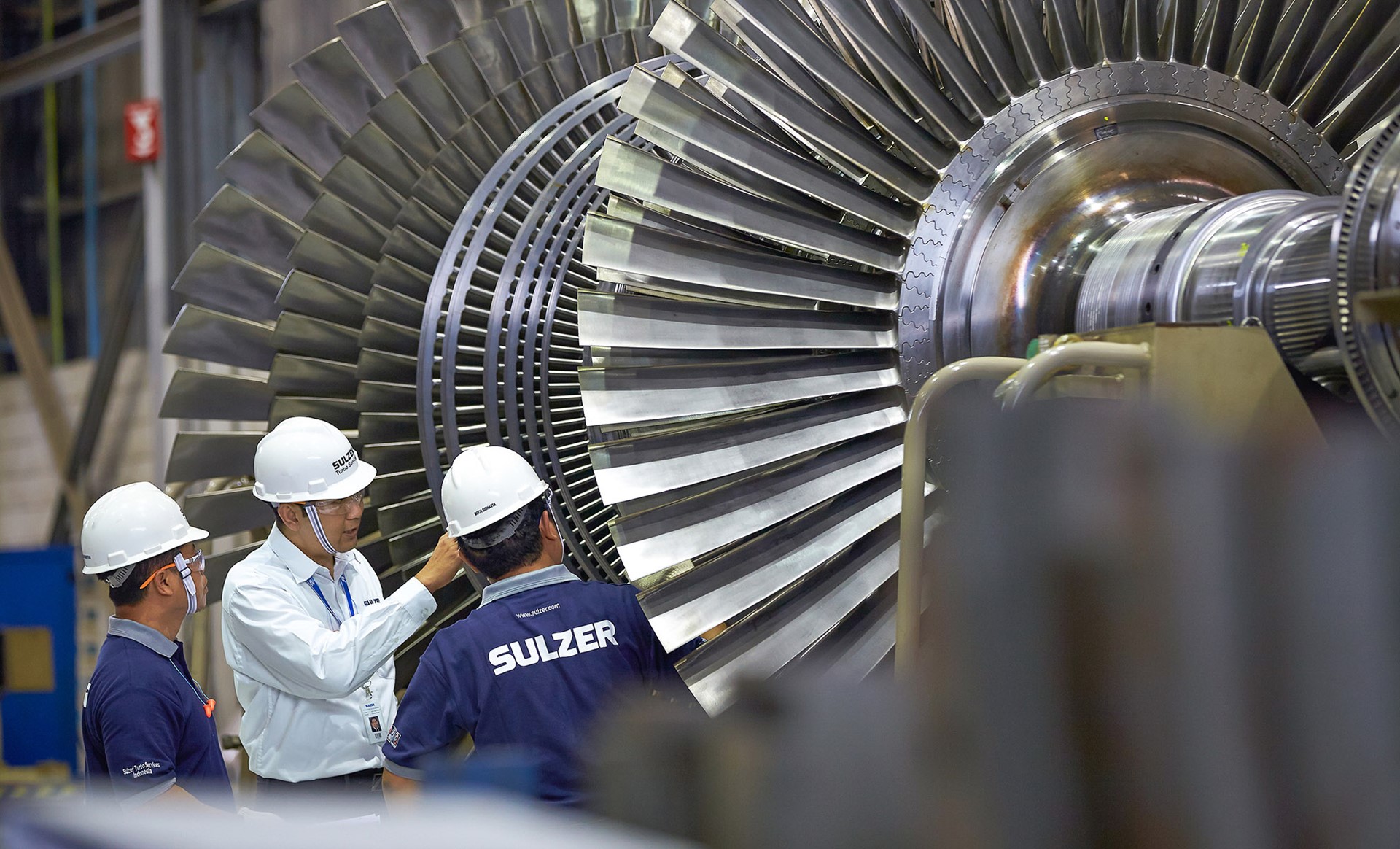 Sulzer Indonesia's mobile workshop allows the teams to repair large steam turbines directly at the customer's site.
Boosting customers' reputation
The fast repair of critical rotating components is the main specialty of Sulzer's Rotating Equipment Services division. Its Indonesia workshop is unique in its ability to propose a mobile rotor welding process that allows it to repair rotor shafts entirely at the customer's site.
This reduces downtime, saves on transport costs and reduces potential rotor damage risk, which means insurance costs are also minimized. Overall, it helps customers to ensure a stable power supply for the population and to improve their reputation and profitability through shorter downtimes.

Mobilizing equipment efficiently
The mobile workshop consists of a complete set of portable tools including lathes, welding equipment and balancing machines, which are packed into sea containers ready to be shipped to the customer's site.
The service engineers assemble the equipment in the turbine hall right beside the damaged turbine. They remove the rotor and place it on the lathe where all repairs are performed under observation from the customer.
Keeping power plants running
Sulzer deals with all types of heavy damage to turbine equipment. Either in the company's own service centers or, wherever possible, directly at the customer's site with the mobile workshop.
Thanks to the innovative minds and skill set of the Indonesian team, our customers keep their power plants running and save millions of dollars.
More stories about our products and services at www.sulzer.com/stories.