Sulzer Midyear Report 2023
– Letter to the shareholders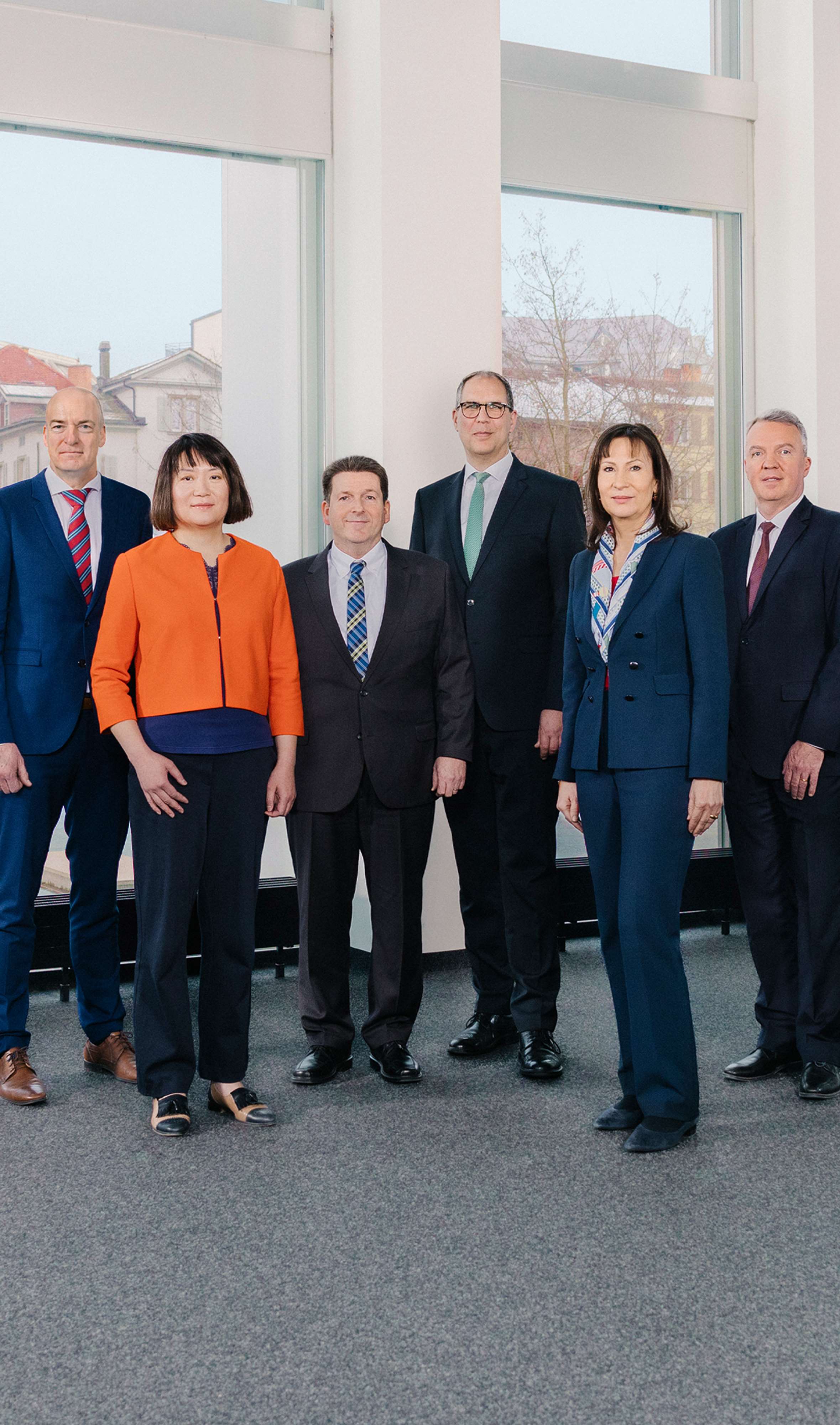 Sulzer Executive Committee
From left to right: Tim Schulten, Division President, Services; Haining Auperin, Chief Human Resources Officer; Thomas Zickler, Chief Financial Officer; Uwe Boltersdorf, Division President, Chemtech; Suzanne Thoma, Executive Chair; Jan Lüder, Division President, Flow Equipment

In the global energy discussion, both a secure energy supply and energy efficiency are fundamental pillars for the stability of our society. Traditional energy needs to be decarbonized and made more efficient to fuel a sustainable transition. At the same time, new solutions that enable circularity and reduce waste are gaining momentum. Sulzer technologies fundamentally enable solutions that address these societal and market needs. Moreover, we are well positioned in these markets to ensure sustainable, profitable growth, which is what our H1 performance reflects.
Strong performance
After seeing orders rise more than 30% in Q1, growth continued in Q2. As our customers strive to meet their ambitious challenges, demand for Sulzer solutions increased accordingly, resulting in double-digit growth across our divisions in H1. Overall, Sulzer's order intake stood at CHF 1'992m compared to 1'734m in 2022, an organic increase of 24.1% year-over-year, with double-digit gains in all divisions.
Orders in Chemtech rose 25.3%, continuing its strong growth in both core and new markets. Flow Equipment's order intake grew 25.1% year-on-year, based on strong activity in the energy markets, and Services grew 22.1% year-on-year, fueled by demand for higher efficiency and lifetime extension of critical infrastructure. Based on our strong order execution, sales increased 15.4% to CHF 1'601.6, while our operational profitability rose by 110 basis points to 10.1%. Flow Equipment managed to increase profitability by 170 basis points to 7.0%, its best performance ever, while Chemtech also reached a new high of 11.7%. We achieved these gains thanks to a favorable product portfolio mix, cost discipline and higher sales volumes.

Long-term growth potential
Markets are changing rapidly and dynamically, leading to shifts in demand that we can serve. The development of innovative technology, improved processes for critical applications and a resilient infrastructure support the transition to clean and renewable energy.
For Sulzer, precisely because our technologies support and enable sustainable development, these fundamental challenges represent significant growth opportunities. To ensure we can seize these opportunities, we continue to invest in research and development (R&D) throughout our global organization to drive technical innovation and maintain our market leadership. A good example of this is our new R&D facility in Singapore. Announced in April, this research center will fuel development of innovative clean technologies for customer applications in the Asia Pacific region.
Strategy review
Given our transforming markets, we are adapting our strategy to ensure that we continue to meet the needs of our global customers. At the same time, we are examining internal processes to improve the way we generate value and to achieve operational excellence. We define operational excellence as improvements in all aspects of our business. An important element is our net working capital (NWC), which we have reduced to deploy it more effectively and to fund future growth. Operational excellence also requires effectiveness and efficiency in management across all essential processes. It is the basis of how we manage our resources and shape our corporate culture and helps support our business leaders make the right decisions. It is also about quality, which shapes our customer relationships and ultimately drives our innovation.
These endeavors form the foundation on which we build our evolving strategy. Here we look at the fundamental value drivers across the business, our respective market positions and the ongoing development of our business portfolio to ensure we continue to grow profitably.
Outlook
We have had a very strong year to date and expect demand in our markets to remain robust. Based on our strong position in growing markets, we have recently increased our guidance and expect organic order growth of 10 to 14% year-on-year, organic sales growth of 11 to 13% and operational profitability around 11% of sales.
As always, we would like to extend great appreciation and thanks to you, our shareholders, for all of your support, and to our employees, customers and partners, without whom none of our achievements would be possible.
Sincerely,

Suzanne Thoma
Executive Chair